Kort geskiedenis van Rodgers Familie
Die twee maandelikse Perske Pit Mark oftewel The Peach Pip Market word by Rodgers Fruiters gehou.
Dit is op die Kommetjie pad (Tussen Vishoek en Kommetjie) .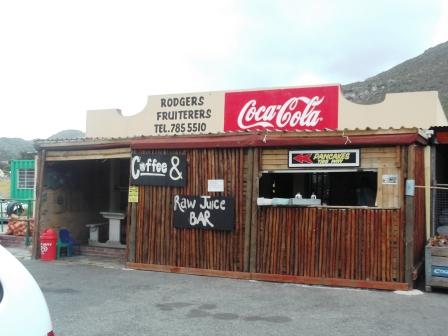 Voor ons gesels oor die Perske Pit Mark kom ons gesels eers oor Rodgers Fruiters. Die Rodgers familie het baie diep spore in Simonstad en die familie is soos ander families tydens 1965 / 1966 gedwing om pad te gee uit Simonstad. Onder andere het Jubilee Plein in daardie jare aan die Rodgers en Galant families behoort.
Simonstad is baie ryk aan beide die Afrikaanse of Hollandse geskiedenis sowel as die Britse geskiedenis. Dit is orals sigbaar in Simonstad. Maar dit is asof die kleine minderheid nie blankes van 1965 bloot tussen die Boer en Brit se geskiedenis uit Simonstad gedruk is. Ons kan nie wag om binnekort meer oor hierdie familie se geskiedenis en verbintenis met Simonstad van toenderheid te gesels nie.
Een staaltjie wat Merle Rodgers my vertel het is waar die oorsprong van die woord Spanspek vandaan kom. As jy self 'n draai by die Kasteel in die Stad 'n draai gaan maak sal jy oplet dat Simon van Der Stel soos 'n koning gelewe het, kompleet met slawe, groot swembad, persoonlike wynkelder. Wat die geskiedenisboeke ook nie duidelik vertel nie is dat die einste Simon van der Stel nie 'n blanke persoon was in terme van die apartheidsregering se definisie van 'n blanke persoon. Ook die huidige regering sal nie hierdie feit vermeld nie. Simon van Der Stel het ook die wêreld bekende wynplaas, Groot Constantia, gevestig. Terug by die ontstaan van die woord Spanspek.
Simon van der Stel, die eerste gowerneur aan die Kaap de Goede Hoop het soos 'n koning gelewe. Die slawe moes elke dag vir hom spek en eiers voorberei vir ontbyt terwyl sy "vrou" , van spaanse afkoms baie lief was vir vars vrugte. Tyd vir behoorlike navorsing was daar nog nie maar dit blyk voorlopig dat Johanna Jacoba Six, sy eerste vrou hom nie na die Kaap vergesel het nie. Na sy vertrek na Suid-Afrika het hy nooit weer sy vrou gesien nie. Terwyl die Goeweneur sy spek en eiers vir ontbyt geniet het moes die slawe vrugte voorberei vir sy vrou / minares van Spaanse herkoms. Dit is waar die slawe aan die woordjie Spanspek vandaan gekom het. (Spaans + Spek) . Vir eers kan ons die beskou as 'n staaltjie maar waar daar 'n rokie trek is daar dikwels ook 'n vuurtjie...tyd sal leer of ons die waarheid kan opdiep. Simonstad, Kalkbaai en Kaapstad besit die skatte van die geskiedenis van die ontstaan van moderne Suid-Afrika. As mens mooi kyk en bietjie terugstaan sal jy die geskiedenis soos gister voor jou kan sien.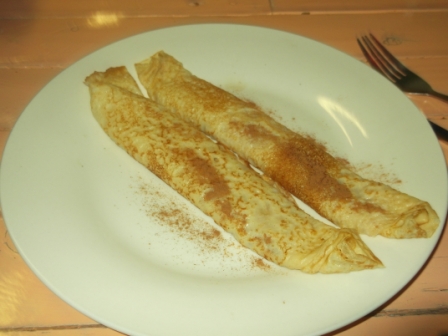 Foto bo: Verstom deur hierdie mooi winkel met 'n baie lekker atmosfeer en propvol verassings om elke draai het ek twee lekker heuning en kaneel met suurlemoen pannekoek bestel. Dis heerlik!
Fotos bo: Alhoewel daar nou markte, lekekr rou vrugtesappe en organiese produkte te koop is is die besigheid steeds eerstens 'n vars vrugte en groente winkel.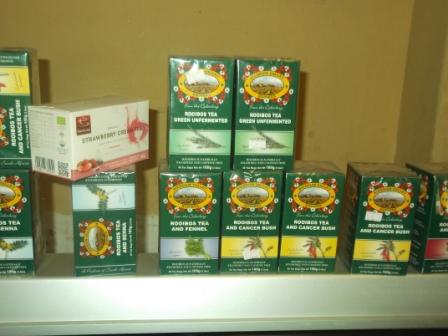 Foto bo: Rooibos tee pas die tema van organiese produkte soos 'n handskoen. Saam met beet is rooibos tee een van die mees effektiefste anti oksidante wat help om kanker te beveg.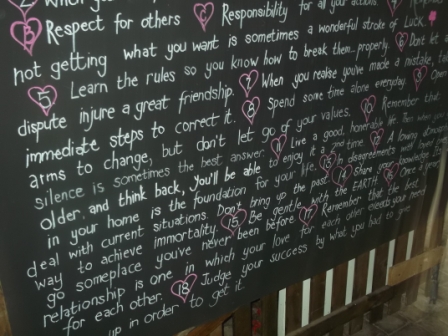 Die muur is plek plek versier met waarhede en gesegdes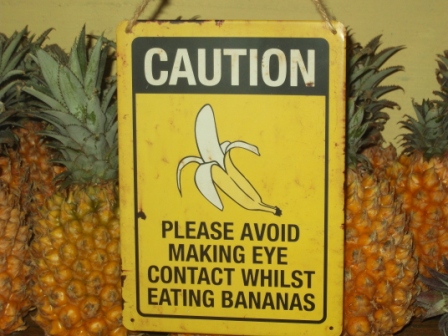 Foto bo: 'n Bietjie lag het niemand nog siek gemaak nie!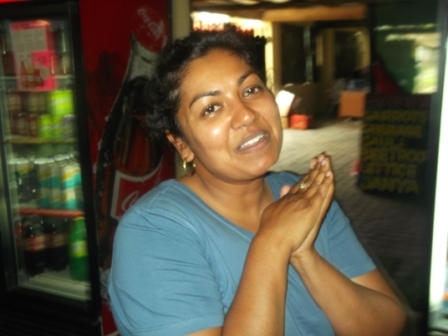 Foto bo: Merle Rodgers. Mens kry sommer hoendervleis as jy luister na die mooi stories oor hierdie familie besigheid en die diep geskiedenis getrap in Simonstad om later uit Simonstad getrap te word. Tyd sal leer of geregtigheid vir die Rodgers familie sal geskied.
Die Rodgers familie verkoop al geslagte lank vrugte en groente.
Hier is so paar fotos van die vrugte en groente en ander lekker dinge wat vir jou wag as jy by die deur van Rodgers Fruiteres instap. Van buite lyk dit soos 'n pad stalletjie. Sien boonste foto. As jy eers binne is begroet 'n heel ander wêreld jou.
Rodgers Vrugte en Groente Winkel
Foto Galery
Rodgers Fruiters
Die Rodgers familie se vrugte en groente winkel is 'n baie lekker winkel om te besoek. Vanaf die pad (tussen Vishoek en Kommetjie) lyk die winkel na 'n tipiese plaas stalletjie. As jy eers binne is wag 'n heel ander wêreld vir jou. Hierdie foto album vertel deel van die storie.
Die Perske Pit Mark word tans twee maandeliks gehou.
Op 22 Desember 2015 is daar 'n spesiale aandmark met Kersliedere by Kerslig.
Om op hoogte te bly van opkomende markte sluit gerus by hul Faceboek blad aan:
Hier is so paar fotos van markte van die verlede: (Geneem van hul Faceboek blad.)