Ratanga Junction Tema Park
As jy op soek is na 'n bietjie avontuur vir jou kinders of vir die kind in jou is Ratanga Junction Tema Park by Century City op die N1 dalk 'n opsie om te oorweeg. My ervaring van die dag is dat dit baie lawaaierig is, bietjie aan die duur kant maar dat dit ook groot pret vir kinders en volwassenes kan wees.
Ons webwerf fokus op Simonstad en dinge om by of naby Simonstad te doen so ons sluit Ratanga Junction Tema Park by ons webwerf in.
Tydens ons besoek aan Ratanga Junction Tema Park gedurende Desember 2015 was die ingang per persoon (wat aan alle aktiwiteite wil deelneem R181). Kinders onder 1,3 meter betaal R91 en word mini avonturiers genoem aangesien baie van die aktiwiteite vereis dat persone bo 1,3 meter moet wees.Ek en my vrou, wat agter die kinders aangeloop het, en net toeskouers was moes R70 betaal vir ingang. Vir 'n gesin met 3 kinders is dit al R683 net om in te gaan. Die kinders geniet die plek egter vreeslik baie en dit kan dalk voel asof jy agter die kinders aanhardloop met jou beursie. 'n Mens mag geen kos of koeldrank / drank inneem nie en 'n Forresters draft bier kos R29,50 terwyl 'n blikkie bier R23,50 kos. 'n Mens wil nie sente tel terwyl jy op vakansie is nie maar hierdie feite word genoem ter wille van die meer prys sensitiewe vakansieganger.
My kinders het 3 x die Kobra gery en die wete dat die plek genoeg geld maak om die bes moontlike veiligeheid en sekuriteit te probeer verseker het darem die gemoedere binne my kalmeer. Ek raak vinnig geiiriteerd as die musiek en lawaai so oorverdowerend is dat mens nie behoorlik kan dink nie. Miskien is dit omdat ek 'n klein baba by my gehad het, dat ek nie myself weer self as 'n kind kon verbeel nie. Miskien kan ek een keer alleen saam met die groter kinders kom kuier en self weer kind wees?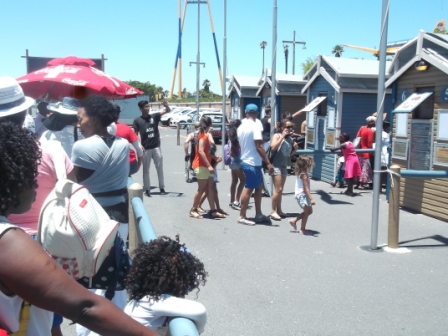 Foto bo: Met ons aankoms by Ratanga was dit duidelik: daar is lang rye by die ingang sowel as by die meeste van die gewildste dinge om te doen.
Foto's bo : Vir die kleiner kindertjies is daar ook aktiwiteite en pret soos gesigverf en rondomtalie perdjies
Foto bo: Daar is in die hoof ontspanningsaal verskeie wegneem ete tipe kos om van te kies en ook vermaak soos ons op die dag 'n roofvoël vertoning in die verte gehoor het. Die lawaai was vir hierdie skrywer net 'n bietjie te veel. Vir ander kan dit dalk meer pret wees maar ek kon nie vinnig genoeg die stilte opsoek nie. Gelukkig is Ratanga Junction redelik groot en was daar stiller areas waarheen mens tydelik heen kon ontvlug.
Foto bo: Een van die avontuur ritte wat jonk en oud laat gil van plesier, of is dit vrees?
Foto bo: Hierdie pa het die meeste van die tyd dit van die kinders gesien en die kinders slegs twee maal verloor op een dag. Dis maar moeilik om te sien hoe die kinders ouer word en mens bietjie meer spasie moet gee vir die kinders om die avontuur van die lewe ook te kan geniet.

Foto bo: Monkey falls verskaf groot plesier vir oud en jonk. Hier kon ons vir 'n hele rukkie wag terwyl die kinders hul beurt afwag want die rye is lank. Die naaste wat skrywer aan kindwees kon kom is toe skrywer dikbek omtrent 'n kilometer moes terugstap vir sy warm kaasbrakkie want by monkey falls was daar nie warm kaasbrakkies nie.
Ons kan darem hier 'n rukkie ontspan en stadigaan het die dikbekgeit my verlaat soos ek sien hoe selfs oumas en oupas hulleself gate uit geniet op hierdie rit wat mens lekker sopnat maak. Selfs moslem vroue met hul burka's het geskater van die lag op hierdie ritte. Die atmosfeer was een van (oor die kleurgrense-, ouderdomsgrense heen) : hier word pret beleef!
| | |
| --- | --- |
| Waar is die dae toe my kind die wou ry? Nee nou is dit al die gevaarlike , vreesaanjaende Kobra! | Daar is 'n lekker verskeidenheid van kosse om van te kies |
| Die twee vroulike pioniers heel voor op die eerste van drie ritte op die Kobra. Die Kobra is 'n ongelooflike vinnige rit en selfs manne gil soos meisies. | Sussies lag voor die eerste rit op die Kobra met hul seuns maatjie, gedoop "onbekende verdagte man" wat loer in die agtergrond. |
| | |
| --- | --- |
| Sussie het heelwat minder as gewoonlik geslaap met al die aksie by Ratanga. Daar is darem genoeg skaduwee en plekkies om te wag en 'n bier of koeldrak te nuttig terwyl die kinders rond hardloop. | Verdagte raak vars met sussie terwyl hulle oppad is na eerste Kobra rit. Vermoede is verdagte wou nie alleen die Kobra ry nie. Op die ou einde het die drietjies beurte gemaak om alleen langs n vreemdeling te ry |
| Na die Kobra rit kan mens vir R65 vir jou 'n foto koop om die dag / rit te kan onthou. Vir oud en jonk is die rit 'n besonderse belewenis. Dis duidelik die adrenalien maak dat mense weer en weer die rit wil doen. | Einde van die dag met tafelberg in die agtergrond sit verdagte en sussie 1 en wag vir ons by die kar, of soos in die geval bo op die kar.Lekker donnerse romantiese mooi foto van onskuldige kinders wat 'n dag vol pret gehad het. |
Met die eerste oogopslag kan mens dalk dink dat dit 'n duur uitstappie is vir 'n klein gesinnetjie. Maar ek moet noem dat die sekuriteit by Ratanga Junction uitstekend is. Daar word nie dronkenskap geduld of onbehoorlike gedrag nie. Daar is volop personeel wat besoekers se veiligheid probeer verseker en 'n magdom van aktiwiteite om van te kies. +- R1,000 vir 'n gesin met 3 kinders wat deelneem is ook seker maklik net soveel as Pa wat Gholf speel alleen op een van die Kaap se beter bane.
Miskien kan hier pa volgende keer die baba en ma by die huis los en saam met die kinders kind wees vir een dag? Of dalk kan ma en baba by die nabygeleë Century winkelsentrum hulself besig hou terwyl ons meer avontuurlustiges oor goeters klouter, deur water bars of deur die lug tuimel op die Kobra! Of miskien skryf die skrywer met 'n groot mond...dalk kan hy en Baba winkels toe gaan en Ma saam met die ander pret hê. Miskien oorpluisies of oorfone en klassieke musiek in ore om die oorverdowende geraas wat plek, plek bestaan te oorkom. (Dis seker maar net alles maniere om die beursie groter en vinniger oop te maak?)
Ratanga Junction is beslis vir die meer avontuurlistiges 'n lekker alternatief om vir 'n dag tydens jou Kaapse vakansie te oorweeg.