Die reis na Kaappunt Natuurreservaat en Kaappunt vanaf Simonstad is nie baie ver nie maar mens het eintlik 'n vol dag nodig indien jy Kaappunt wil besoek. Indien jy nie 'n Wild Card het nie kos die besoek aan die Natuurreservaat jou boonop 'n paar rand net om toegang te verkry vir die dag. (Besoek Sanparke se webwerf hier vir vandag se pryse.) Die eintlike rede om Kaappunt en die reservaat te besoek is om alles behoorlik in te neem, van die asemrowende uitsig op Valsbaai na die mallewales van die Kaapse Bobbejane wat mens waarskynlik iewers sal teekom, die pragtige fynbos, Kaappunt self en dalk 'n Eland of Volstruis in die natuur reservaat.
Die Kaapse Bobbejaan is presies dieselfde spesie as die "Bosveld Bobbejaan" wat meeste binnelandse reisigers sal ken van hul besoeke aan die www.krugerwildtuin.co.za . (Dis net die naam aan hom toegedig deur die eerste Europese besoekers aan Suid Afrika.) Maar wees gewaarsku, hierdie Kaapse bobbejane het al geleer om kar deure oop te maak op soek na maklike kos! Die Suid-Kaapse skiereiland.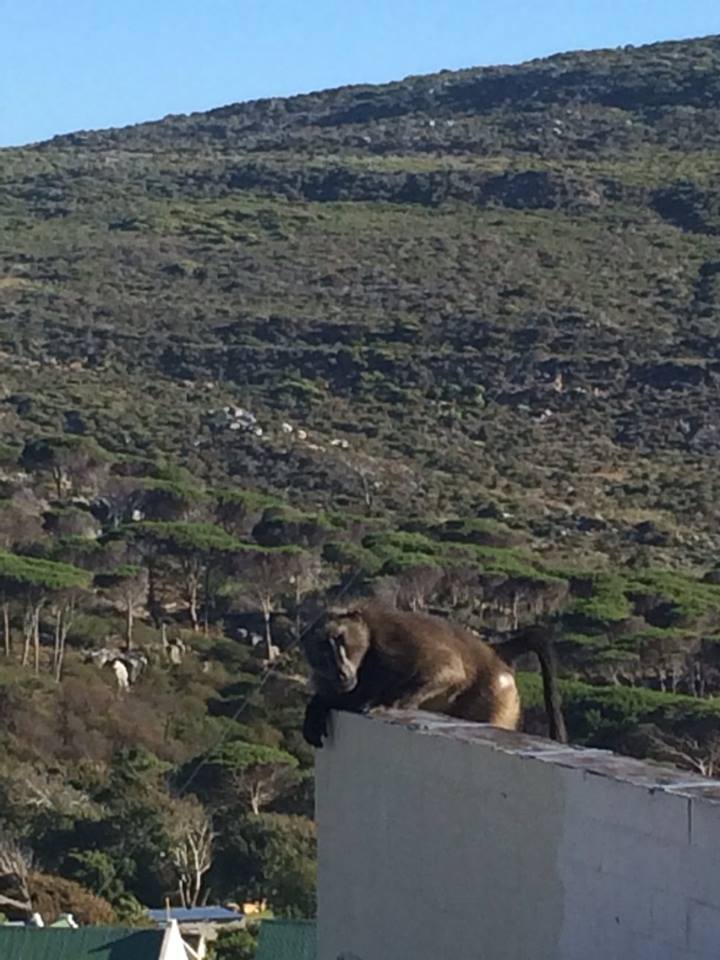 Kees op die skrywer se huis se dak in Welcome Glen Kaapstad. In die agetergrond is deel van Tafelberg Nasionale Park met die Glencairn Expressway wat lei na Noordhoek.
'n Goeie idée is om jou eie broodjies of beskuit en koffie in te pak en ontbyt te geniet oppad na Kaappunt terwyl die son oor Valsbaai opkom. In Simonstad is daar vele restaurante waar ontbyt geniet kan word indien jy bietjie later met jou reis wil begin en piekniek of Koffie en beskuit nie jou ding is nie. Vir middag ete beskik Kaappunt oor sy eie restaurant met asemrowende uitsigte. 'n Goeie alternatief is om die Black Marlin restaurant te besoek op pad terug vanaf jou besoek aan Kaappunt. Die restaurant met sy billike spyskaart het 'n ongelooflike uitsig oor Valsbaai en word deur baie toer operateurs verkies vir hul oorsese besoekers.