Honeybush Huis Bed en Ontbyt
Kliek hier om jou besigheid met ons te lys
Honeybush Huis Bed en Ontbyt
Kontakbesonderhede
Kontak persoon
Hanlie of Piet
Selfoon Nommer
082 650 228
Epos
Adres
33 Disa Rd, Murdock Valley, Simonstad
Op soek na verblyf in Simonstad en 'n plek om te rus in 'n rustige omgewing? Honey Bush Huis bied 'n sonnige, dubbel slaapkamer met en suite-badkamer. Dubbel Franse deure maak oop op 'n stoep in 'n stil, afgesonderde tuin.
'n Klein kombuis met mikrogolf, yskas en ketel bied noodsaaklike selfsorg geriewe of jy kan jou eie braai op die stoep!
Die kamer het 'n aparte ingang en daar is veilige parkering in die oprit.
So vir die stad moeg, oorweeg Honey Bush Huis vir 'n vreedsame en rustige rus!
Die omgewing het baie om te bied, want daar is twee pragtige strande binne loopafstand, of jy loop na die nabygeleë kolonie Afrika-pikkewyne en hulle sien in hul natuurlike habitat. Tussen  Augustus en November kan jou nagrus versteur word deur die blaas of plas van walvisse in die baai!
Simonstad het baie wonderlike restaurante om van te kies indien jy wil uiteet! So kom geniet alles wat ons pratige dorp en die beeldskone suid – kaapse skiereiland aanbied.
Ons sal poog om jou verblyf so gemaklik en aangenaam as moontlik te maak!
KOSTE: R650.00 per paar en R600.00 vir 'n enkele persoon per nag met ontbyt ingesluit.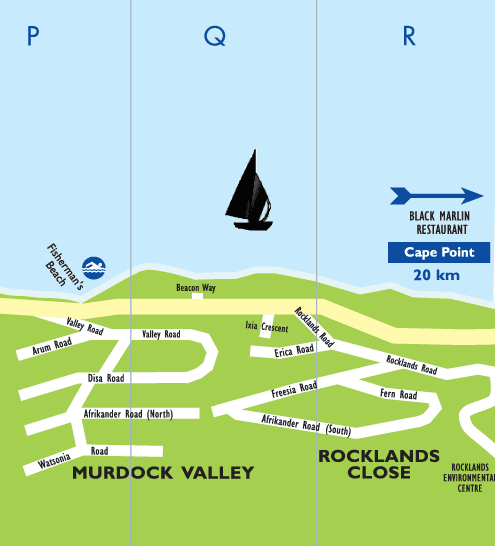 Aanwysings:
Ry deur Simonstad op die hoofroete. Na ongeveer 4 kilometer draai regs in Valley straat wat met 'n haarnaald draai in Disa straat indraai.