Cape Point Vineyards in Noordhoek is die nommer 1 plek in Noordhoek om te besoek tydens jou Kaapse Vakansie in of naby Simonstad. Dit is as jy nou nie luister na Tripdadvisor wat jou wil vertel dat Noordhoek strand die nommer een doen ding is in Noord Hoek nie. (Voor Cape Point Vineyards).
Geen probleem as jy die strand wil besoek of selfs dalk wil perdry op Noordhoek Strand maar as jy Cape Point Vineyards mis, mis jy 'n baie groot deel van Kaapstad. Daar is geen kos of wyn op die strand beskikbaar nie!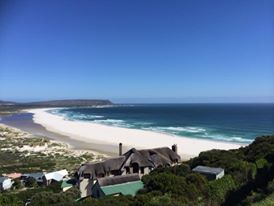 Foto : Noordhoek strand afgeneem vanaf die begin van Chapmans Peak met Monkey Valley Resort in die voorgrond. Hier kan mens lang ente gaan stap of selfs perdry deur Sleeping Hollow Horseriding .
Dit lyk baie mooi maar kyk net hoe pragtig is die foto hieronder!: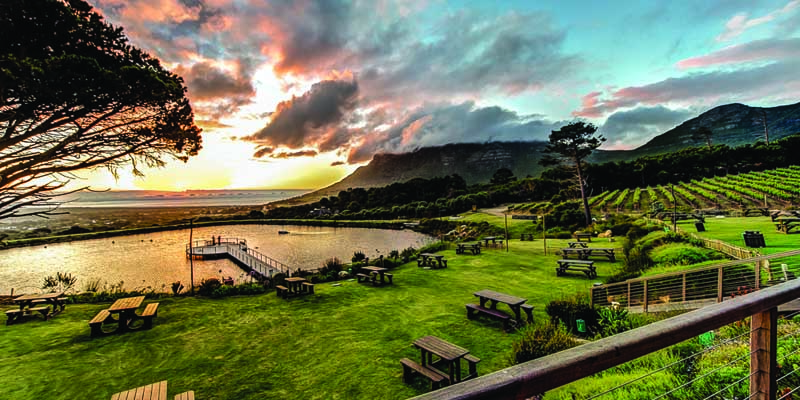 Foto bo: Cape Point Vineyards met sonsondergang, foto geneem van die restaurant en wyn proe kamers.
God moes so bietjie stilgestaan het voordat hy hierdie pragtige plek geskilder het, asof daar ekstra aandag gegee is aan wat van hierdie stukkie grond in die toekoms sou word.
Behalwe dat Cape Point Vineyards 'n werkende wynplaas is, die naaste aan Kaappunt, is Cape Point Vineyards ook boonop:
Een van die beste plekke vir jou somers piekniek in Kaapstad
'n Baie romantiese plek wynplaas vir jou troue en onthaal in Kaapstad...lees meer...
Die restaurant aan te bevele as jy jou wederhelfte, vriende of familie wil beindruk
'n Baie populêre gemeenskaps kosmark bestemming (Donderdae aande in Somersmaande en Sondag Middae tydens die winter.)
'n Uitsoek fasiliteit vir jou korporatiewe funksies
Die fasiliteite is so indrukwekkend as mens vergeet dat Cape Point Vineyard ook bekend is vir sy wyne, soos die baie populêre Splattered Toad wat goed is saam met enige ete of geleentheid.
Dan is daar ook die uitsoek Savignon Blanc-, Savignon Blanc Reserve-en Isliedh
Weddings and Events
Wine Tasting
Community Market
Restaurant
Wine Sales (Local) Wine Sales (Export)
General Contact No. : +27 (21) 789 0900