Nuusbrief
2015-09-27
Hengel by Simonstad in Valsbaai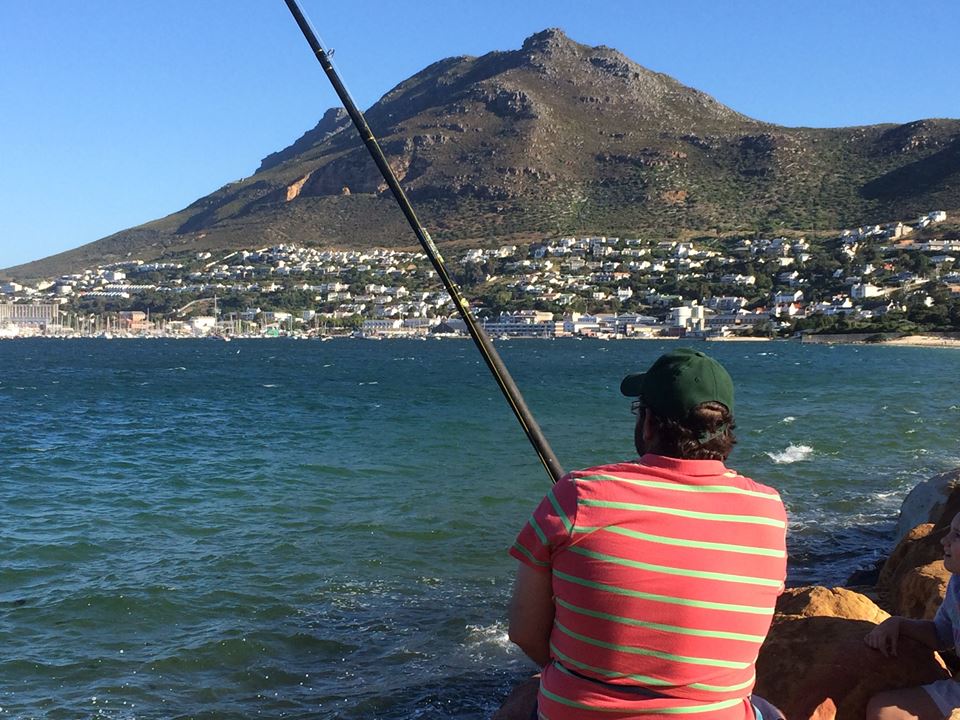 Foto: Skrywer met Simonstad in die agtergrond.
Hier sit ek voor die groot Pylstert gebyt het. Ek het nie spesifiek die dag vir Pylsterte of haaie gehengel nie maar vir enige iets wat wou byt. Die area is eintlik bekend as Glen Marine net voor mens Simonstad binnegaan vanaf Vishoek, Glen Cairn se rigting. Dis sowat 1 km vanaf die begin van Simonstad se historiese myl, waar die duikskool Pisces Divers is. Dit is ook naby aan Scratch Patch Mineral World en die brandweer stasie.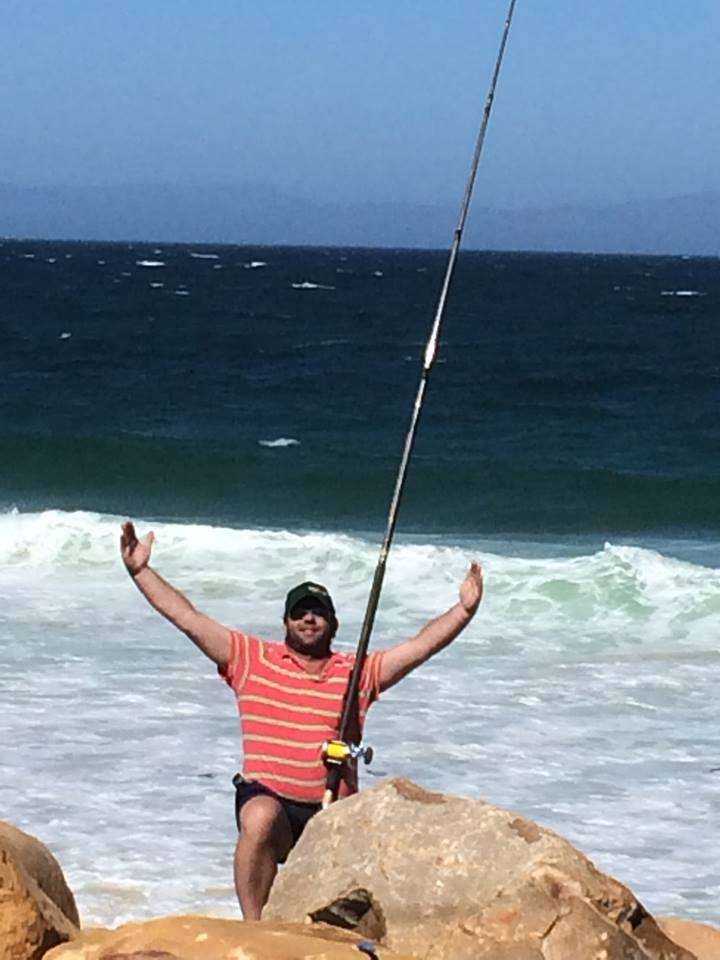 Foto: Hier maak ek nog vroeër die dag grappies oor hoe groot die visse is wat byt. Min het ek geweet wat later die middag wag!
Ek was eintlik besig om te hengel vir Geelstert of Kabeljou en dus het ek nie 'n staalstrop gebruik nie. Die vorige dag het iemand met Sardyn en 'n klein stokkie , wel met 'n groot tikkie geluk, 'n Geelstert gevang vanaf min of meer dieselfde plek waar ek gehengel het.
Die hele middag het niks behalwe die klein vissies gebyt nie en ek was reg om op te pak voor daardie bekende "laaste" gooi. In my lewe het daardie laaste gooi al baie vrugte afgewerp. Soms is dit egter die eerste gooi wat die resultate oplewer soos ek later sal vertel oor my eerste Kabeljou vanaf Kalkbaai hawe muur, toe ek die eerste keer in hierdie Kaapse waters gehengel het.
Ek het groot geword aan die Suid Kus van Natal in die dorpie Port Edward waar ek leer visvang het op die bekende Splash Rock en Lucky Dip. Hengel in die Kaap en hengel aan die Natalse Suid Kus verskil baie. Hier in die Kaap (Valsbaai en Overberg) is daar byvoorbeeld nie soos in Natal volop Elwe wat gereeld aan die loop gaan nie. Die aas wat mense hier gebruik verskil ook heelwat van die aas wat mens in Natal gebruik. Tot op hede het ek nog nie regtig geleer hengel met Bloedwurms en Rooi Aas nie.
Hierdie spesifieke middag , net voor ons sou loop, het ek sommer 'n baie spesiale wapen ingespan en dit is gebed. Ek weet gebed is nou nie eintlik vir visvang bedoel nie maar ek het 'n baie spesiale aas voorberei naamlik 'n toebroodjie bestaande uit sardyn, garnale en tjokka. Met Melanie en Saskia by my het ek die seën oor die spesiale toebroodjie uitgespreek. Ek wou nie snaaks wees nie maar ek was regtig lus om 'n vis te vang. Ek dink die Here het dalk gedink Hy is snaaks toe hy die Pylstert laat byt het want wat gevolg het was my grootste geveg en stryd met enige vis.
Soos met alle goeie hengel stories was die aanvanklik byt van die groot Pylstert die eerste ordentelike byt van die dag en terwyl ek nog so regmaak om vas te kap toe gee die Pylstert eers 'n lekker byt. My aanvanklike vermoede was dat dit 'n haai moes wees en ek het gedink dat die lyn enige tyd sou breek. Toe dit nie breek nie en ek die geweldige krag van die Vis voel het ek besef dit kan net 'n Pylstert wees. Dit is 'n geweldige kragtige vis, veral met die eerste paar lope waarna die vis probeer om homself in die sand te begrawe en dit regkry ook!
Hierdie spesifieke hengel area het omtrent nie enige rotse nie en ek het geweet dat hierdie stryd met die Pylstert oor krag en geduld gaan wees. Die krag van my lyf, die knope aan die hoek en dan die geduld om die Vis moeg te speel.
Laasgenoemde het ek agter gekom is nie so maklik nie!
Op die video hierbo kan gesien en gehoor word hoe moedeloos ek is!
Iewers tussendeur die geveg het Melanie my vriend Dean Pretorius van ESA faam op die lyn gekry vir my en die foon teen my oor gehou. Ek wou by hom weet hoe vang hulle hierdie visse want my arms kon nie meer nie. Dis toe dat hy my vertel om die Stok reguit te hou en die rat van die katrol so styf moontlik te hou dat die lyn eintlik so bietjie sing.
Dit was 'n groot verligting want my arms was teen die tyd al baie seer!
Daar naby my was twee hengelaars van die Kaapse middestad wie deurgery het vir 'n lekker rustige middag se hengel. Twee vriendelike kêrels wat eintlik maar net met hul klein stokkies kom ontspan het op die rotse. Hulle het naderhand gegroet en my sterkte toegewens met die geveg.
Ek het begin om sywaarts te beweeg na 'n klein strandjie aangesien ek nie die Pylstert oor die dolosse van die treinspoor se muur sou kon kry nie en ek nie daaraan glo om 'n gaffel te gebruik wanneer ek hengel nie. Daar is geen rede om Haaie of Pylsterte seer te maak wanneer jy vir hulle Hengel nie en as ek een se dood moes veroorsaak sou ek liewers ophou hengel. Hulle is pragtige skepsels en ek glo vas dat die mens nie enige iets moet doodmaak wat hy nie sal kan eet nie. Dit is die eenvoudige goue reël van Hengel of Jag wat ek volg.
Video hierbo: waar gesien word hoe ek sywaarts moes beweeg om 'n oop strand te kry om die Pylstert te land.
Dit het maar stadig gegaan en die son was besig om al vinniger te sak. Melanie en Saskia wou al toe ook huis toe gaan en ek dink hulle het my al begin verwyt vir die kort seëngebed wat ek or die aas gebid het! 'n Klein skare het my dopgehou terwyl ek besig was met die geveg. Van die manne in die brandweer stasie tot die woonstel bewoners van die woonstelle oorkant die pad. Ek het begin voel ek skuld hulle dat ek die vis sou land.
Uiteindelik was dit net sand tussen my en die Pylstert en was ek baie gelukkig om hoër as die Pylstert te wees deur op die wal te kan bly by 'n klein bruggie. 'n Verdere geluk was dat daar 'n vreemdeling daar aangekom het wat oorspronklik van Natal af kom en die het al voorheen ervaring gehad van haaihengel. Terwyl hy geduldig wag dat die vis nader kom het hy en Melanie geselsies aangeknoop oor kinders en die plaaslike skole en wat meer. As dit nie vir hom was nie sou ek of die geveg moes opgee of die Pylstert regtig baklei tot hy heeltemal dood is en dit wou ek nie doen nie.
Groot was my verligting en tevredenheid toe die Pylstert uiteindelik op die nat sand was , ons 'n foto kon neem en hom veilig en ongedeerd kon terugplaas in die see. My arms en my hele lyf was lekker seer maar na die geveg wat 2,5 ure geduur het was ek baie tevrede en kon ek huiswaarts keer en kon ek , na 'n lekker warm stort , aandete geniet. Natuurlik het ek my Facebook vriende vir die volgende twee weke herhinner aan my vangs deur gereeld van hierdie fotos en videos te plaas.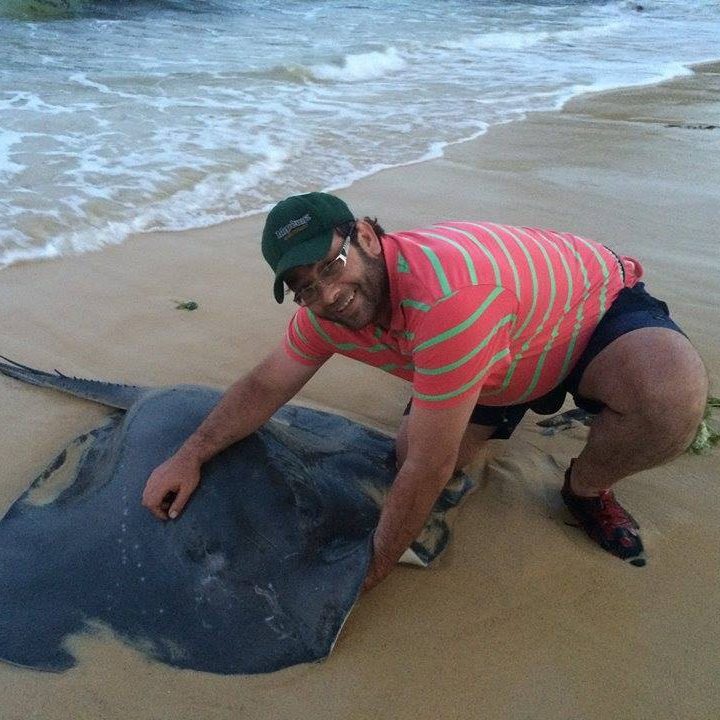 Om vir twee en 'n half ure met 'n groot vis te baklei is nie maklik nie en ek dink ek sal weer 'n Pylstert wil vang nie. Miskien 'n groot Kabeljou dalk maar die groot visse is so skaars en ons oseane so bedreig dat mens hulle eintlik nie eers meer wil vang nie want hulle is baie meer sensitief as 'n Haai of 'n Pylstert. Ek dink ek sal nie omgee om so nou en dan 'n klein kabeljou of iets anders vir die pan te vang nie. 'n Mens hoef dan nie met sulke groot swaar gerei te hengel nie.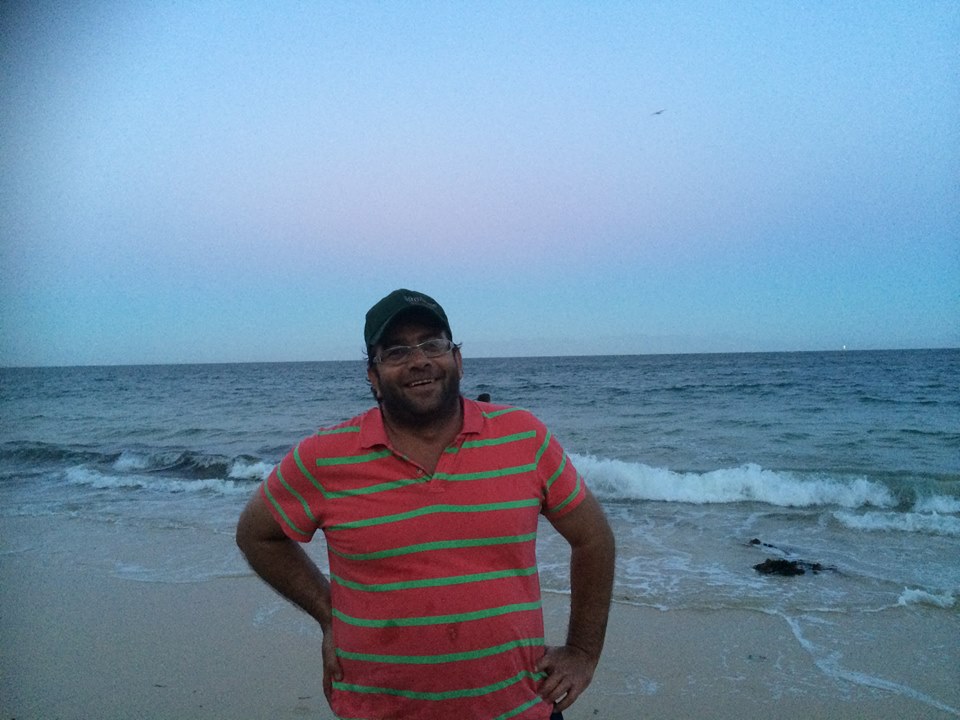 Foto: Baie verligte en moeë hengelaar / skrywer
Die mense wie gereeld Geelstert vanaf dieselfde plek vang, as die weer en gety saamspeel , (Die inkomende gety na 'n sterk suid ooster aaneen vir 'n paar dae gewaai het) gebruik kunsaas en lepels en koffiemeul katrolle om te hengel vir die Geelsterte. Geelsterte word ook gevang by Kaappunt met kunsaas. Dis 'n besonderse lekker eetvis vir my en mens kry gereeld van hulle te koop by Kalkbaai se hawe. Vir my is hy lekkerder as 'n snoek en net net amper so lekker soos Kabeljou. Soms kan mens ook direk van die vissers wat Geelstert vang met treknette op Sunrise Strand (verby Muizenberg strand) of Muizenberg self, Vishoek of net verby Glencairn Treinstasie ook Geelstert koop.
As jy nou lus is vir 'n visbraai en spesifiek Geelstert dan kan ek ook die Outspan Restaurant in Kalk Baai aanbeveel waar die prys vir 'n stuk Geelstert, 4 of 5 garnale en bietjie calamari nou die laaste 4 - 5 jaar R115 per porsie is. Pryse is seisoensgebonde of liewers beter gestel, gebonde aan die prys van vis op Kalk Baai se hawe. Outspan Restaurant het nie 'n dranklisensie maar jy kan jou eie saamneem , sonder om 'n kurkfooi te betaal. Dit maak die uitstappie na Kalk Baai aansienlik goedkoper.
As jy liewers jou eie vis wil vang kan mens dit in Kalk Baai doen vanaf 'n boot saam met George, die eienaar van Kalky's in Kalk Baai. Jy staan beslis 'n beter kans vanaf 'n boot as vanaf die kant. In Simonstad is daar ook verskeie toeroperateurs wat jou sal uitneem vir 'n halwe of vol dag.
Dit is nie dat daar geen vis van die kant af gevang word nie maar dit gebeur nie gereeld dat iets ordenteliks van die kant af gevang word nie. Dit is baie ongelukkig dat die strandgebiede verby Muizenberg na Strandfontein en Macassar op pad na Gordonsbaai van die beste Hengel Waters in die omgewing is maar ook baie gevaarlik en nie die moiete werd om te oorweeg indien julle nie 'n groot groep mans is en dan gewapen met vuurwapens.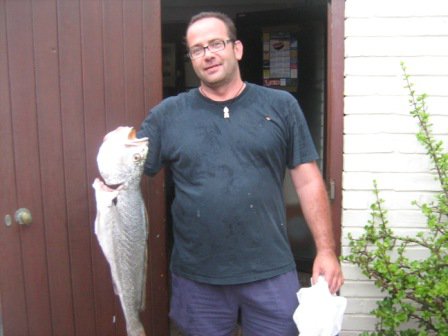 Hier is ek met 'n lekker Kabeljou wat ek gevang het vanaf die hawe muur in Kalk Baai, die eerste keer toe ek weer begin Hengel het in Kaapse waters na 'n "hartseer" onderbreking van drie jaar. (Was woonagtig in die binneland en geld vir hengel en see vakansies was daar nie.)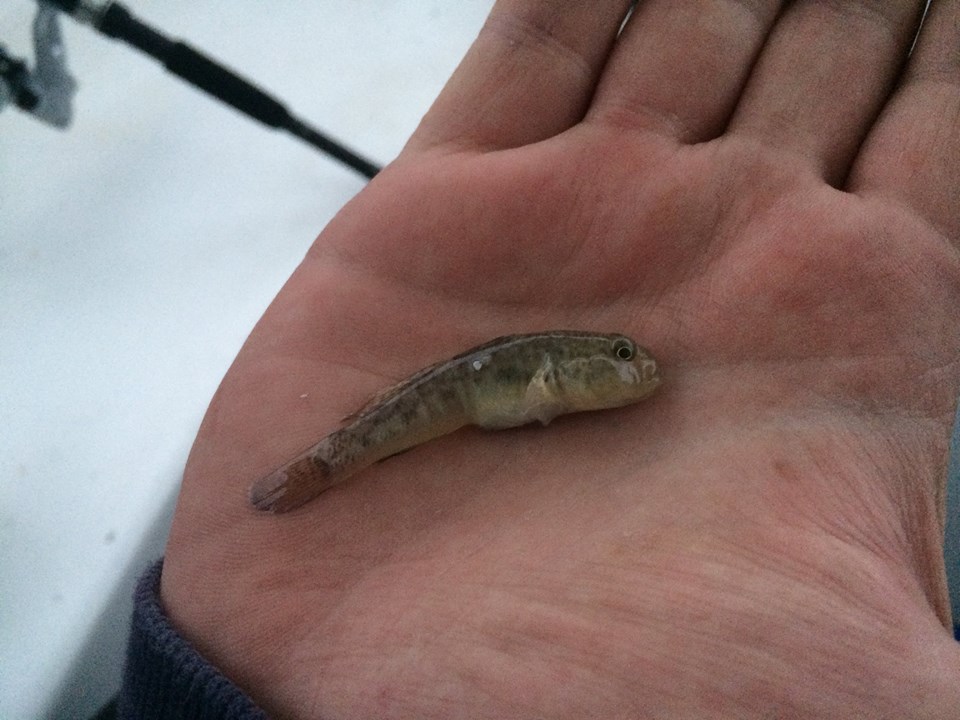 Foto bo : 'n Ander baie duur vis. My enigste vis gevang tydens 'n vakansie by Kraalbaai in die Weskus Nasionale Park, Langebaan.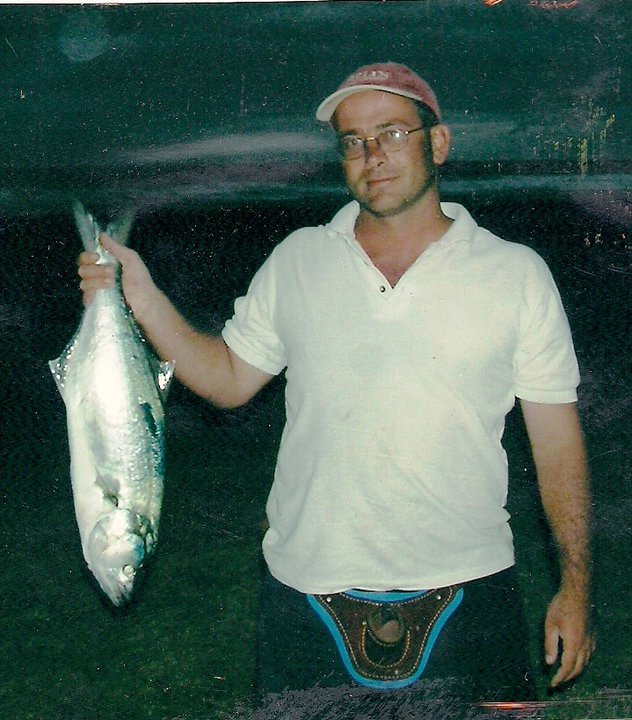 Foto bo: Uit die verlede . Lekker groot Elf gevang by Gouritz Riviermond. Aas : Lewendige Strepie. Geheim: Baie ure en geduld op die rotse, daardie laaste gooi en 'n weer eens gebed!
My volgende droom is om self Tuna te gaan vang. Hopenlik is dit 'n storie wat ek 'n ander dag kan skryf...(word vervolg)
Advertensie: Koop jou Hengelgerei in Vishoek by Great White Sport and Surf: