Nuusbrief
2015-11-05
Beste kos en wyn ervarings in Kaapstad
Ek was bevoorreg om definitief die beste kos ervaring in Simonstad te beleef en bes moontlik selfs een van die beste kos en wyn ervarings in Kaapstad. U sien goeie kos, wyn en die lewe behoort gevier te word!
Besoekers aan Kaapstad wonder almal oor die lekker wyne van die Kaap, die Pinot Noir-Chardonnay's, Voinier's,Sauvignon Blanc's en wat nog meer van die Kaap. Allerhande terme en name vir lekker wyn. (Wat altyd verantwoordelik geniet moet word.) Daar salk dalk later 'n poging aangewend word om bietjie meer oor die wyne van die Kaap uit brei en waar al die verskillende name vandaan kom of miskien nie. Party dinge in die lewe is beter om bloot te gaan ervaar. Jy werk hard deur die jaar en soms, net soms is dit die regte ding om te doen om jouself so bietjie te bederf. Jouself of dalk jou personeel deur hul te beloon met 'n jaareindfunksie in Simonstad by Sjef Duncan?
Die Kaap en Kaapstad bied jou talle wynplase met restaurante waar wynproe aangebied word en die fyner kunsies van wynproe en pas met kos aan jou verduidelik word. Hierdie besoek vir middagete in Simonstad, Kaapstad was nie 'n uitsondering nie maar dog ook 'n totale belewenis. Kom lees gerus verder!
Die ligging is Sjef Duncan se persoonlike gastehuis, die Flagship in Simonstad wat 'n pragtige uitsig oor Valsbaai bied.
Die tema was: kom ontspan, skop jou skoene uit - Letterlik en figuurlik - en kom proe van die lekkerste kos wat jy in jou lewe al geniet het. Ontspan en leer van hoe om Graham Beck wyne met die regte kos te pas. Die 5 gang maaltyd begin om 13:00 en gaste word verwelkom met 'n glasie sjampanje - verskoon my 'n glasie vonkelwyn, voordat ek een of ander Fransman ontstel! Daar was juis die middag oorkant my aan die tafel 'n paartjie vanuit Frankryk op vakansie in Kaapstad (en die res van Suid-Afrika) en daar is gespot omrede Sjef Duncan die foutjie gemaak het om te verwys na Suid-Afrikaanse vonkelwyn as Sjampanje. (Daar is 'n handelsmerk op die woord Sjampagne.)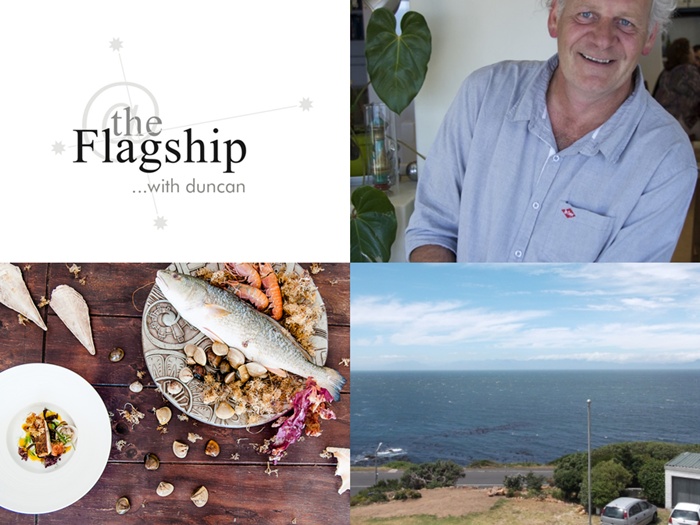 Foto bo: Die banier hierbo wat ook op hierdie webwerf se voorblad verskyn verteenwoordig waarvoor die Flagship, met Sjef Duncan staan. Dit is voorwaar een van die beste kos en wyn ervarings in Kaapstad om te ervaar en ek moes Sjef Duncan en sy span doodeenvoudig 'n lekker groot vet plasing op die webwerf se voorblad gee. Praat van vet: as ek so aanhou eet in al hierdie lekker top klas restaurante van Kaapstad, en veral die Suid-Kaapse skiereiland, gaan ek baie vet word. Gelukkig is my beursie nie so dik soos my aptyt vir lekker kos en goeie wyn nie. (Daar is ook gelukkig in Kaapstad en Simonstad ook baie lekker staproetes, strande om te besoek en ander aktiwiteite wat die lewe en liggaam terug in balans kan bring.)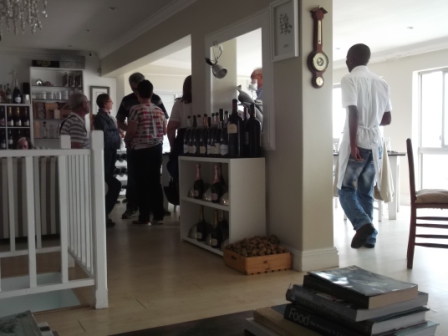 Foto bo: Gaste wat arriveer word flink deur personeel bedien met 'n glasie vonkelwyn. Onthou tipping is nie 'n voorstad in Beijing nie. Suid-Afrikaners het darem die regte ingesteldheid wanneer goeie diens ervaar word as dit kom by fooitjies aan behulpsame restaurant personeel.
Fotos links bo: Die uitsig na onder na die swembad voor die kamers van die gastehuis van Sjef Duncan. Die Flagship is beslis 'n goeie opsie om te oorweeg om ook aan jou akkommodasie behoeftes tydens 'n besoek aan Kaapstad te voldoen veral as die tema lekker kos, 'n ontspanne atmosfeer, seeuitsigte, luuksheid of 'n romantiese spesiale wegbreek naweek vir twee is. Foto regs bo: Uitsig oor Valsbaai vanaf die eet/sitkamer waar gaste aan gemeenskaplike tafels aansit.
Die maaltyd begin om 13:00 en eindig om ongeveer 16:30.(Hou dit in gedagte as jy die Flagship vir 'n naweek besoek.)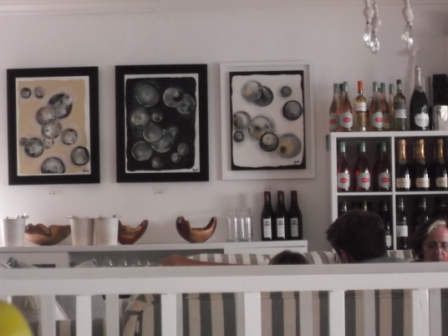 Foto bo: Gaste ontspan voor die eerste maaltyd. Sjef Duncan se eet/sitkamer is klassiek en stylvol , dog ontspanne. Ja jy word selfs die geleentheid aangebied om jou skoene letterlik uit te skop en in'n spesiale boks te plaas. Daar is interessante boeke om te lees as jy dalk soos ek alleen by die Sjef se huis opgedaag het, net voor jy saam met die ander gaste begin kuier.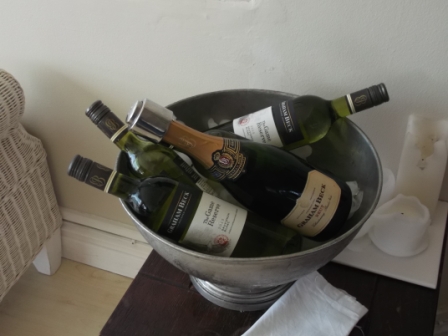 Op die wynlys is 'n verskeidenheid Graham Beck wyne wat deeglik deur Sjef Duncan met gaste bespreek word. Ander drankies en wyne kan ook bestel word en sal by jou rekening gevoeg word.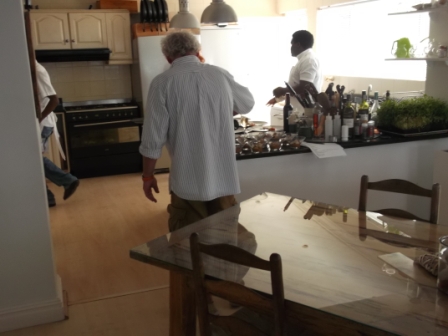 Foto bo: Sjef Duncan besig met voorbereidings van die seekos voorgereg. Alhoewel sjef Duncan 'n gemaklike mens is wat die lewe, kos en mense geniet is hy ook perfeksionisties as dit kom by die voorbereiding van sy kos en sjef Duncan het my nie teleur gestel nie. Met die eerste proeslag is dit 'n ontploffing van smake wat jou tref en jy weet: "Hierdie gaan 'n lekker middag wees!".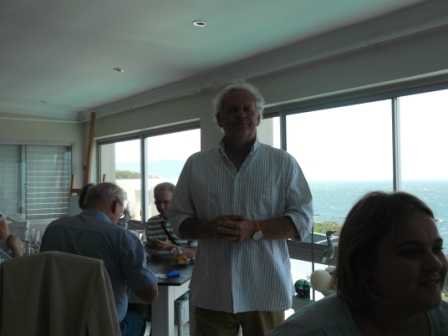 Foto bo: Sjef Duncan besig om van die wyne en kos bestandele te verduidelik. Sjef Duncan se ervaring op wynplase is 'n bate en passie wat hy graag met sy gaste deel. Op die spesifiek dag was daar 'n groterige groep Portugese gaste met hul persoonlike vertaler en het Sjef Duncan en sy personeel wys besluit om die tafels in twee te verdeel. DIt is die vlak van diens en vooraf beplanning wat mens van Sjef Duncan en sy personeel kan verwag.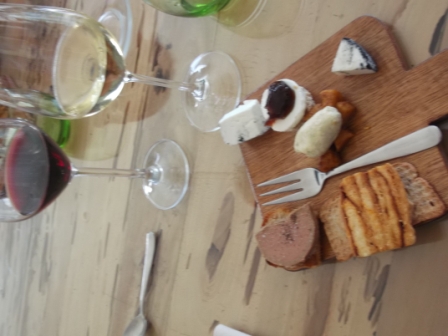 Foto bo: Een van my persoonlike hoogtepunte van die maaltyd was die Kaasbordie met 'n bietjie eend patee wat bedien is. Sjef Duncan het in sy wysheid 'n halwe glasie wyn rooi en wit voorgesit en voorgestel dat mense speel met dit wat vir hul lekker is, dat mense se smaak pallete verskil.Dit is tipies van die gemaklike ervaring wat sjef Duncan hoop sy gaste ervaar. Elke deel van die vyfgang maaltyd kom met 'n 80ml glasie wyn. Dit is voldoende maar as jy dorser is kan jy vra dat jou glasie teen 'n klein fooi aangevul word.
Sjef Duncan se tema met die kies van bestandele is so ver moontlik plaaslike, vars organiese gekweekte en volhoubare kosse. (Bedreigde vis of skulpvis word nie voortgesit nie.)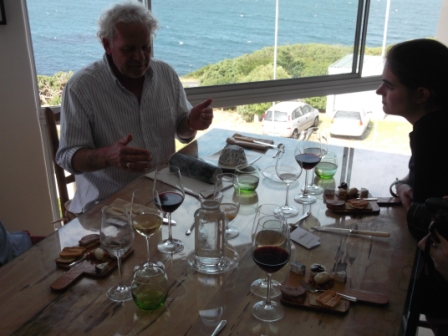 Foto bo: Sjef Duncan besig om aan gaste die verskillende kase te verduidelik wat voortgesit is.
Daar is nog baie om te vertel maar miskien is dit beter om 'n bietjie detail uit te los. Ek sal moet teruggaan om weer hierdie ervaring te beleef. 'n Ervaring wat selfs die eet van padda boudjies insluit! 'n Mens eet die soos jy 'n klein KFC hoenderboudjie sal eet. Die is lekker voorberei maar hierdie outjie se brein moes maar so bietjie stoei aan die gedagte om 'n padda te eet! Maar dit is net 'n gedagte in my kop. Vir mense van ander kulture, en hier is baie internasionale gaste wat orals vanuit Kaapstad na Simonstad gebring word vir die spesifieke ervaring, is dit dalk nie so vreemd om padda boudjies te eet nie.
Aangesien jy aan tafel saam ander gaste aansit is dit die ideale geleentheid om lekker te gesels. Jou medegaste aan tafel is meesal vakansiegangers wat die groter Suid Afrika besoek en dus is die atmosfeer aan die tafel ontspanne en vol opgewondenheid wat mens van mense op vakansie kan verwag. Suid Afrika is vir die meeste internasionale besoekers goedkoop maar tog is Suid-Afrika ver van Europa en Amerika en is die koste en moeite om tot hier te kom 'n negatiewe faktor.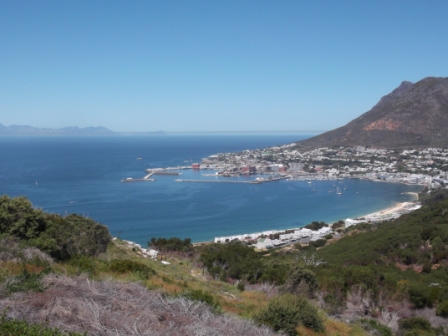 Foto bo: Simonstad in die verte. 'n Besoek aan die Flagship en ete saam met Sjef Duncan is 'n blywende herhinnering van jou besoek aan Kaapstad. Dit is beslis een van die beste kos en wyn ervarings om in Kaapstad te ervaar! Die ervaring is ook glad nie buitensporig duur nie as in gedagte gehou word dat jy kos en wyn kry sowel as "vermaak" en dat dit jou die beste deel van 'n middag sal voed en vermaak. (Tydens my besoek in Oktober 2015 was die koste , saam met 'n 10% fooitjie R800 per persoon.) Ek wil afsluit met die stelling: dit is elke sent werd!