Nuusbrief
2015-12-19
Koop vars vis in Kalkbaai
Vars vis is gewoonlik reg deur die jaar beskikbaar in Kalkbaai en kan by die visverkopers daar gekoop word. Die bedryf is oorgedra van geslag na geslag en is 'n wonderlike ervaring om met hierdie vriendelike mense besigheid te doen.
Hier is kontakbesonderhede van vis verkopers by Kalkbaai se hawe:
Sylvia 0722669328
Oma 0767536822
Vennie 0787295552
Farieda 0763514544
Patricia 0787549050
Evie 0737799562
Wally 0824730824
Farouk 0717824887
Fotos bo: Visverkopers op Kalkbaai hawe . Die mense is vriendelik en vol pret om mee saam te gesels. Betaal hulle gerus hulle vra prys en hulle dans saam met jou!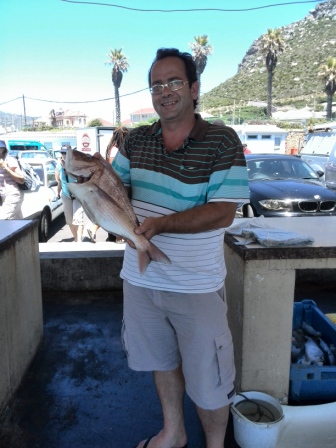 Foto bo: Skrywer met sy Soldaat vis. Die is 'n heerlike eetvis!
Kalkbaai is vandag steeds 'n werkende hawe. Die vis en bote is minder as in jare van vervloë dae maar as jy daar rondloop en jy laat die verbeelding gaan sal jy 'n dorpie ryk aan geskiedenis beleef.
Kalkbaai is naby geleë aan Simonstad en Kalkbaai se onstaan is nou verwant aan die ontstaan van Simonstad. Beide die dorpies is ontdek deur Simon Van Der Stel wie opgemerk het dat die area ryk aan vis en klein wild is. As mens vir 'n oomblik stilstaan en die verbeelding laat gaan kan mens jou maklik verbeeld dat die Kasteel Simon van der Stel se private paleis was, kompleet met sy eie private wynkelder en swembad. Simon van der Stel het Kalkbaai beskou as sy private wildsplaas waar hy kon ontspan en hengel. Hy moes darem ook maak of hy soms werk en hy het opgelet dat Simonstad 'n goeie alternatiewe hawe sou wees vir skepe om gedurende die wintermaande aan die Kaap aan te doen.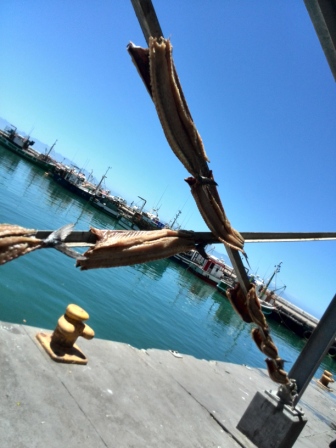 Foto bo: Snoek word gehang om uit te droog by Kalkbaai hawe
Osse en Ossewaens is gebruik om vis en voorrade na en van die Kasteel en Kaapse hawe te vervoer. Vandag nog steeds vind mens die Outspan Restaurant. Dit is hier waar die osse uitgespan is terwyl vis en ander voorrade opgelaai is. Op 'n stadium was Kalkbaai 'n basis waar daar op walvisse gejag is.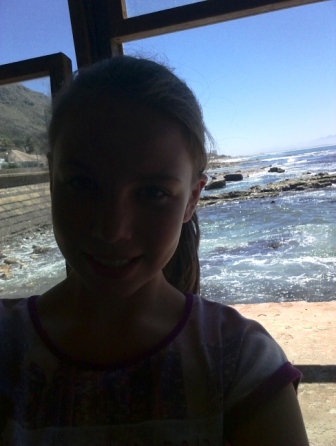 Foto bo: Lekker ontbyt by die Brass Bell . Jy is as't ware bo op die see.
Vandag staar toeriste in verwondering wanneer hulle ontspan by plekkies soos die Brass Bell Restaurant of Harbour House restaurant en hulle vermaak word deur walvisse in die agtergrond.
Gaan maak gerus 'n draai by die Kasteel. Dit is besonders interessant om daar te wandel en dit is 'n goedkoop doending in die Kaap.
Kyk na Simon van der Stel se privaat woning, die Kasteel , met slawe kwartiere , private swembad en wynkelder en jy sal met ander oë kyk na Kalkbaai en Simonstad. Hoe hierdie plekke werklik ontstaan het.
Vertoef 'n wyle in Muizenberg waar die Britte Suid-Afrika die eerste keer ingeval het , waar die eerste poskantoor in Suid-Afrika vandag nog staan, 'n entjie nader in St James kry mens Rhodes se vakansie huisie . Dis vis nie meer so baie nie maar dit is maklik om jou verbelding te laat gaan.
Simonstad, Kalkbaai en Kaapstad bied jou soveel meer as wat mens met die eerste oog opslag sal raaksien.
Ons vertel later nog stories en van lekker doen dinge maar vir eers moet ons verder vakansie hou!
Geniet julle vakansie en fees seisoen !